May 18, 2016 · Posted in
Clinical Diagnostics
,
For Sales Managers
,
HealthCare Sales
,
HealthCare Sales Jobs
,
Interview Coach
,
Interviewing Skills and Tips
,
Laboratory Sales
,
Laboratory Sales Recruitment
,
Medical Device Sales
,
Medical Device Sales Recruitment
,
Medical Sales
,
Medical Sales Job Search
,
Pathology Sales Jobs
,
Pharmaceutical Sales
,
Research Products
·
Comments Off
Medical sales job interviews are complex and fiercely competitive–to make sure YOU win, hire a medical sales interview coach.
Kraig McKee  
Kraig McKee is the expert you need in your corner. Not only has he been a medical sales recruiter, he has worked at high levels in the medical sales arena and has hired sales reps–which means that he knows exactly what medical sales hiring managers are looking for and he can share those secrets with you.
Kraig has been Director of Sales at Ventana, Vice President of Sales at Transgenomic, and Sales Director at Chiron Diagnostics. (See Kraig McKee's LinkedIn profile.)  His product experiences include clinical chemistry, special chemistry, histology, immunohistochemistry, electrophoresis, immunoassay, HPLC, microarray, MA and DNA separation and purification. Also see Kraig's articles on sales and sales management.
Wherever you'd like your next medical sales role to be–medical devices, clinical diagnostics, biotech, laboratory, hospital, surgical, pharmaceutical–Kraig is the coach who can get you there.
Schedule Your Coaching Session with Kraig McKee Today
1 Hour Coaching
2 Hour Coaching
30 Minutes of Coaching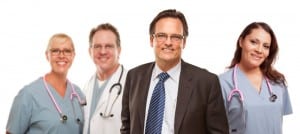 Are you searching for a medical device sales job? Read Brian's story of how he got a medical device sales job in just a little over 2 months (after a downsizing):
Dear Peggy,
Quick Story: I lost my job (down sized) in [date removed]. Even though I got several face-to-face interviews almost immediately, I didn't seem to connect with the hiring manager. I started using Career Confidential in August and getting on the [Free Training] Webinar calls. I asked questions and you answered them on the calls. I followed your advice on many things, especially about LinkedIn and going around recruiters [and hiring managers]. I worked at making connections on LinkedIn and I talked to hiring managers directly. This upset some recruiters at first, but when they saw how driven I was they helped me.
I start a fantastic job this Monday with a salary 20% higher (I negotiated) than they first offered. So this will probably be my final Webinar call. But I leave with a almost 1000 LinkedIn connections, a better resume, a Medical Device position in my specialty that I really like. I [also] have confidence that if I get downsized or my company goes bankrupt, I know where to get the tools and the attitude to quickly find a great position.
Thank you,
Brian J
Here's how Brian got his medical devices sales position so quickly:
He even negotiated a 20% higher salary from the initial offer (see how easily you can do this, too, in this fantastic webinar with Jack Chapman on Salary Negotiation).
If you are new to medical sales, I would encourage you to see this: How to Break Into Medical Sales.
September 8, 2015 · Posted in
Clinical Diagnostics
,
HealthCare Sales
,
HealthCare Sales Jobs
,
Imaging Sales
,
Laboratory Sales
,
Laboratory Sales Recruitment
,
Medical Device Sales
,
Medical Device Sales Recruitment
,
Medical Sales
,
Medical Sales Job Search
,
Medical Sales Recruiting
,
Medical Sales Recruitment
,
Pathology Sales Jobs
,
Pharmaceutical Sales
,
Pharmaceutical Sales Recruitment
,
Research Products
·
Comments Off
Do you have something interesting about medical sales to share?
If you can provide great content on medical sales, medical sales management, or medical sales and marketing, I would love to post your articles on my blog!
It will give you some great Google juice–we have 100,000 readers.
If you are actively working in medical sales, some insightful commentary from you about the field could help establish you as a Subject Matter Expert and contribute to your career advancement.
General info on medical sales, management, or marketing would be fantastic, as well as niche articles on medical devices, pharmaceutical, clinical diagnostics, laboratory sales, imaging, medical software, or healthcare IT, to name a few.
If you have a great idea for an article, contact me at: 
Peggy@PHCConsulting.com
Subject: PHC Article Idea
I can't wait to hear from you!
Medical device sales is one of the highest-paid (see medical sales salaries), highest-prestige sales categories.  This means that competition for these jobs are fierce.  Does it mean you can't get into medical devices from some other field?  Of course not.  You absolutely can…if you know these 4 things:
1.  Be sure you understand the medical device sales process and cycle.
First, you have to understand the job–read career overviews of medical device sales, and study the typical sales process.  Go to your network and LinkedIn to find people in medical devices to ask for coffee or lunch and ask a few questions (informational interview).  Go back to your network and find someone in medical devices to job shadow for the day, or ride-along with to see what a day in the life of a medical device sales rep is really like.  Figure out how to deal with doctors and surgeons (surgeons are a breed unto their own–be ready).
2.  Have the most current knowledge of what's going on in the medical devices arena–job market and companies.
Download my list of the Top 100 Medical Companies (it has a section devoted to medical device companies). And look for medical device news:  DeviceSpace is a good source to start with. 
3.  Know what you need to bring to the table.
A medical device sales rep is positioned as the expert on new products and technologies for surgeons, specialists, and executive-level clients in hospital administration, and is often required to be present during procedures in operating rooms.  So not only do you need a scientific background with a strong understanding of mechanical concepts and technology, you'll need high-level selling skills, high energy, and probably a strong stomach!
If you see that you're lacking in some area, address it–take classes, read books (SPIN Selling is a great one), or try a field preceptorship (a.k.a. job shadowing or a ride-along) to enhance your knowledge of the job.  Taking this initiative communicates that you are willing to do what it takes to be successful.  (If your problem is a weak stomach, you probably just want to choose another field–maybe healthcare IT.)
4.  Know what it takes to be a stand-out candidate.
Find a career coach to hone your skills as a candidate and interviewee.  An objective, experienced career coach can save you a lot of time and frustration in your job search.  Take advantage of it.
There are hundreds of articles on this blog for reading about how to land a job in medical sales, and I encourage you to read them.  The more research you can do into career field you'd like to transition into, the better.  It might not make sense to some people to do that much work before you even get the job, but actually, that's what's going to make it more likely that you get the job you want.
Good luck.
Are you thinking of getting into medical device sales? 
MedReps had released it's 2014 Medical and Surgical Device Sales Salary Report, which says medical device salaries are up 5% over last year.
Medical device sales reps earn some of the highest salaries in the medical arena, but it is a tough field to break into.
Check out the salary report, and then read about how you can get a medical device sales job. 
2014 Medical and Surgical Device Sales Salary Report – See more at: http://www.medreps.com/medical-sales-careers/2014-medical-and-surgical-device-sales-salary-report/#sthash.3rdqdumE.dpuf
2014 Medical and Surgical Device Sales Salary Report – See more at: http://www.medreps.com/medical-sales-careers/2014-medical-and-surgical-device-sales-salary-report/#sthash.3rdqdumE.dpuf
2014 Medical and Surgical Device Sales Salary Report – See more at: http://www.medreps.com/medical-sales-careers/2014-medical-and-surgical-device-sales-salary-report/#sthash.3rdqdumE.dpuf
Are you looking for a medical device sales job? What are the requirements you need?  What will get you an interview and get you hired?
Think about this list of things you need as the legs of a stool.  Hiring managers want as many of these "legs" as they can get under their sales reps, because it makes the rep more stable, more independent, and more successful:
Sales Experience (be able to document your results with numbers, dollars, or percentages)
Experience in Medical Arena (any science background, or any experience working with physicians, surgeons, hospitals, etc.?)
Location (are you in the right location without requiring a relo package?)
Technology (do you understand current technology both for the products and for the software you'll use?)
Knowledge of the Call Point (do you understand what it means to work with physicians and/or surgeons?)
Do you need all these legs to get the job?  No.  You can get hired with only one or two, but you'll have to help the hiring manager see how you are going to develop those other legs in order to be successful.
So let's say you have no sales experience but you do have a medical background…what you need to do is really sharpen up those sales skills. I really love the book 'SPIN Selling.' I think it's a fantastic book that applies really well to both the job interview as well as the sales task ahead of you once you get the role. So I really want to encourage you to get that book.
You really can learn quite a bit on your own that will help you get a medical device sales job…through sales books, through medical journals, YouTube videos (lots of lectures and training things there), job shadows, and more.  And the initiative you take to learn these things on your own will (all by itself) make a great impression on a medical device sales manager who's looking for sales reps with a big go-getter quality who will do what needs to be done.
I also have put together a 1-hour webinar where I address the common questions I get from candidates who are trying to break into medical sales.  I encourage you to sign up for it, listen to what I have to say in it and learn the information you will need to make this very important and very exciting transition into a great job that I know you will enjoy.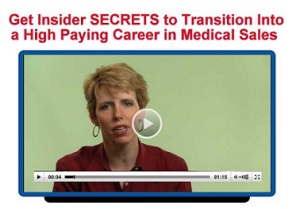 Are you in a medical device sales job search?
Researching the company is a critical step to preparing your 30/60/90-Day Sales Plan as well as knowing how to answer interview questions in a way that will get you the job.
Legacy MEDSearch has a great post on How to Research Companies in the Medical Device Industry that will help you whether you have a medical background or not. Check it out.
If you are in medical device sales (or if you want to get into medical sales), then you've got to see this.
Below is a link to a transcript of Joe Hage's interview with Paula Rutledge of Legacy MEDSearch, one of the nation's top recruiters in medical device jobs and med tech jobs. 
In this interview, Paula gives her very informed thoughts on the medical device job market:
Challenges the medical devices arena is facing (taxes, government regulations, etc.)
How medical device companies can become an 'employer of choice' for medical device sales reps
Technology and product development
Paula pulls in a lot of data, a lot of indicators, and a lot of her conversations with influential people in the field.
If you are in medical devices, this is a MUST read.  Enjoy!
Transcript – Medical Device Job Market
Looking to break into medical device sales?  Got a medical sales interview coming up? Here is an invaluable resource for you, so you can know who the major players are (if you're just getting started), or begin researching the company if you have an interview soon. 
(BTW- If you don't have a medical device interview but want one, come to my free webinar, How to Get Into Medical Sales….I'll give you some guaranteed strategies for getting a medical sales job.)
Medical Product Outsourcing has a list of the top-earning medical device companies, which I have published below for you.  But if you go to the list on their website, you'll find that MPO has linked each company name to an extensive page of information on it.  It's a fantastic resource for your medical sales job search.
1. Johnson & Johnson  $27.43
2. GE Healthcare  $18.29
3. Siemens Healthcare $17.54
4. Medtronic  $16.20
5. Baxter International  $14.20
6. Philips Healthcare  $13.19
7. Covidien  $9.85
8. Abbott Labs  $9.79
9. Cardinal Health  $9.60
10. Stryker  $8.66
11. Danaher  $8.51
12. BD  $7.70
13. Boston Scientific  $7.25
14. B. Braun
 

$6.67
15. Essilor  $6.59
16. St. Jude Medical
  

$5.50
17. Novartis (Alcon)  $5.48
18. 3M Healthcare  $5.16
19. Zimmer  $4.47
20. Terumo  $4.27
21. Olympus Medical  $4.24
22. Smith & Nephew $4.14
23. Hospira  $4.10
24. Toshiba Medical  $3.97
25. Getinge Group  $3.72
26. CareFusion
 

$3.60
27. Bayer  $3.50
28. Fresenius  $3.31
29. C.R. Bard  $2.96
30. Dentsply  $2.90
January 31, 2013 · Posted in
Clinical Diagnostics
,
HealthCare Sales
,
HealthCare Sales Jobs
,
Laboratory Sales
,
Laboratory Sales Recruitment
,
Medical Device Sales
,
Medical Device Sales Recruitment
,
Medical Sales
,
Medical Sales Job Search
,
Medical Sales Recruiting
,
Medical Sales Recruitment
,
Research Products
·
Comments Off
A while back, I wrote a blog article about Why you should never work for Stryker (the surgical equipment company).  I'm not fond of surgical sales anyway, because I'm not fond of surgeons as customers (as my doctor, I can become pretty attached….as my customer, I can do without them).  But Stryker in particular is too hard on their sales reps (in my opinion).  There are other surgical sales companies that would be more enjoyable to work for.
As a medical sales recruiter, I haven't had great experiences with former Stryker reps (and there are many) because they expect to make the kind of money everywhere they did at Stryker.  Sales reps at Stryker do tend to make a lot of cash, but again, they pay for it in terms of stress and pressure.
But, boy, did that blog article cause some upset folks!  Check out some of these comments I got (copied and pasted exactly as they appear)… They range from
The "Stryker sucks and so do its reps" camp:
Rmoney on May 25th, 2012 2:39 pm

Stryker sales representatives are expendable human resources. They always have been and always will be.

They are not intelligent; they're pretty much the jock/assholes you went to high school with that aren't smart enough to get REAL degrees from REAL schools….so they end up in medical devices sales where they can make that CASH MONEY (according to them). I know a few, and have come across many, and, for the most part, they are undereducated, and have a sense of entitlement. But do they deserve any of it? NO!

I am extremely competitive, and a former athlete in college, but I take education as a much more important asset when considering the strength of my work force.

Sales reps fit the dumb jock mentality to a T. Let's not give these people much credit….for they are, truly, expendable. Stryker knows this, which is why they can afford to have that 25% bottom pink-slip policy. This country will never have a shortage of dumb jocks looking to make some quick CASH MONEY. Real talk.

jetsam on May 20th, 2012 3:03 am
One of the mysteries of life is how stryker got onto the fortune list. Either the Fortune method for finding the top employers is rotten or stryker are hiding it well. in response to your q sundeep i never dealt with uk but every other office around the world i dealt with were dicey. Its an american comapny to its core in that arrogance and over the top behavior is seen as a virtue. Its nasty.
To the "It is what it is…":
mike on May 21st, 2012 9:24 pm

I think folks must always bear in mind that stryker is for a person with a very very specific personality. thats why we ensure in the first few months that folks who dont fit our mold are asked to leave.it is the fairest thing to all. true the turnaround is big but no one gets a free dinner at stryker. we can replace easily and mist always be certain that we have exactly the right person – not 'we think they are good for the role and stryker' it must be 'i know that'. Face facts you may not fit in at stryker and we will ask that you leave quickly after you start if we think it.

Bryan w on November 18th, 2011 1:01 am
Yes Sydney, of course I did.

What I don't understand is, what is really trying to be accomplished here?

Many of these comments are from disgruntled ex-Stryker reps that were not cut out for this type of job, whether it be Zimmer, Depuy, Stryker, Etc. These jobs are not for most people, but those who do excel are truly very talented. Those who have terrible experiences with the companies they worked for, obviously slander that company making erroneous comments because that's what make people feel better.

Stryker doesn't not have any plans on changing the types of people they are hiring. Why would they? Stryker is one of the only companies thriving in a depressed market. Their sales force is incredibly strong. Stryker has all candidates take a intense Gallup interview to ensure that everyone they hire has similar attributes and personalities. The don't have any intention of changing and will never be at risk of finding people that would do anything to work for them. Stryker wants to be the fastest growing, most admired orthopedic company in the world and right now, they are.
To the "Stryker's #1!  If you can't handle it, you're a wimp (or a princess, or a crybaby…)":
charlie on January 7th, 2012 6:25 pm

Been reading all the comments here and fed up. No one …that is no one has the right to tell us what to do, how to act, how to behave. WE will decide what type of person works for us, and WE will decide what we are going to be as a company. Stryker is a family and like all families…if you don't fit in, you're out. Yep people at Stryker don't have skills in some ways. Yep we don't necessarily have the girly people skills that others have…but suck it up princess. SUCK IT UP!!! If you are going to be offended by what people say then obviously Stryker isn't for you. Im so sick of losers LOSERS! On this site telling us what to do! F—off princesses ! I used to offend people sure but at Stryker I don't have that problem. It's full of tough, meaty champions … And I would like to see myself as part of that mix. we are champions and Stryker is a champion. Respect that fact.

Dave on December 2nd, 2011 1:58 am
So many freaking cry babies here wa wa wa one word for ya – losers! if ya don't like stryker or the culture then obviously you are not good enough. go first.d yourself some second rate job then. And if you don't like it then tough – we have a set culture, we know what demographic and type of person we want abduction we will not budge from that. That is why we are streets ahead of all compedition in the industry – the others only see our dust. We have better financials and better products and goodwill then all the others. From a Stryker Champion.
What I have to say is this: 
Stryker's culture does, in fact, make it a rough place to work.  But they are some money makers, so it obviously works for them.  And if you work for Stryker and you like it, don't worry about what I say.  If you relish that kind of super-competitive, only-the-strong-(and the lucky)-survive environment, then go for it.
But if you're just applying there because it's got a reputation of being a good place to make money, you should know what you're getting into.
Stryker is very hard on job seekers.  They can be, because they've got THOUSANDS of applicants.  And they're hard on sales reps.  You can't argue they aren't if they regularly pink-slip large chunks of their sales force.
But you, the job seeker, should think about why you want to work there.  Is that really what you want?
Stryker is a little bit like the jock who all the girls chase that's a jerk to everyone, because he can be.  Meanwhile, a perfectly nice guy is standing off to the side, who would appreciate you and treat you with respect.  He's just not that flashy and not demanding all that attention.  You've got to ask yourself, are you throwing yourself at the high school jock and leaving yourself wide open to rejection?  Are you looking around at what else is available?  Are you operating with biases that are keeping you from considering other options?
And as I'm saying this, I know that some of you are super-competitive and just chomping at the bit to go in to a place like Stryker and prove yourself.  You'll feel like you've accomplished something if you can handle that environment and be successful.
All I wanted to do was to educate you and cause you to question yourself.
What are you going for?
What do you want long-term?
That was the point of my blog post.  I think that we all need to move forward with as much information as possible.  I'm very glad that it opened up this discussion.  Thank you all for commenting!