MedReps released its 2014 Pharmaceutical Sales Salary Report.
If you are interested in pharma sales, this is a great report for you, with lots of relevant information for anyone entering pharmaceutical sales.
As in anything else, if you specialize, you'll make more money.  The report says that specialty pharma reps (who call on medical specialists that treat less common diseases and conditions) make more money than traditional drug reps who call on general practice physicians. 
Check out the salary report and then read my article on How to Get Into Pharmaceutical Sales.
Do you want a pharmaceutial sales job?  Here's what I would do to get one (knowing what I know as a medical sales recruiter) if I were in your shoes:
Ramp Up Your Resume with Keywords
The first thing you've got to do is get those resume keywords that will communicate your interest in pharmaceutical sales (science, biology, chemistry, zoology, nutrition, sales experience, account management, event management, communications, psychology, customer service, and more)
If you do have a technical degree (B.S. in Biology, Chemistry, etc.), you need to get these words on your resume. A lot of times, medical sales recruiters will search using 'biology,' 'chemistry,' 'zoology,' even 'nutrition,' because one of our searches was with a company that was very focused on that.
If you don't have any of the key words you need in your background (like maybe you don't have a technical degree, then consider doing a preceptorship (aka job shadow, ride-along). Going to work with someone who is doing the job you're interested in will give you a lot of information you need for your new job and your interview. Put that preceptorship on your resume, and this will give you key words you need (physician, pharmaceutical, etc.). It's a great talking point, and it shows additional strategy on your part because it shows that you're willing to do something you won't get paid for, but that will actually be of assistance.
Write a Good Resume Objective
Your objective needs to be clear. Please don't put that you want pharmaceutical sales in your objective, because that really pigeon-holes you and possibly gets you overlooked for other positions that are actually quite good, that you might want to be considered for. So maybe you want your objective to be: "Sales position at a growing medical or healthcare company".
Work Your Contacts (Network)
Use your local/personal network, and use your social media network, like Facebook or LinkedIn. Try to find people who know someone in this area, and simply ask for assistance. Ask for an introduction. Ask for an opportunity to buy someone breakfast, just to talk. Say, "Hey, I'm not looking for an interview…I just want to learn more so that when I do get the interview, I'm more successful and can get the job.
Expand your thinking on this networking thing. Your mom, your dad, aunts, uncles, cousins, teachers, friends….they all have friends. What do they do? Who do they know? Ask questions. People want to help one another. If you ask for assistance, they'll help you as much as they can. But…you have to tell them specifically what you want them to do. If you just say you need "assistance," it's very vague, and it sounds like a lot of work. But if you say, "Look, can I send you my resume? If you can think of 5 people in your network that you think might know someone who would be looking for someone like myself, could you just forward my resume to them for me? I would really appreciate it. If there's anything I can do to help you, I would be happy to, and I would certainly appreciate this very much. " Ask specifically for what you want.
Stay in touch with your network. Communicate with them every week or every two weeks. Don't do it by phone…that becomes a burden. Communicate by email or social media…this way, they can just read it and delete it or go on. That's OK, because it reminds them of you, and that's all you need it to do.
When you have an opportunity to interview, you've really got to shine. Do your homework. You need to know that company better than anyone else. You need to understand their process. You need to be ready.
If you get the interview and you are asked what you have done to prepare for a sales position, make sure your answer is good. When I say 'good,' I mean tell them something. Don't say, "Well, I haven't had a sales job yet…how could I prepare for it?" You can do a lot of things. You can read sales books. I love SPIN Selling. Strategic Selling is a very important selling style. You can watch YouTube videos (there are tons of instructional videos available for absolutely free). You can read blogs and online articles that talk about how to be successful in a sales role. You can read a magazine…Selling Power is a very strong magazine.
There are a lot of things you can do to show that you have prepared yourself and boosted your skill sets in order to do this job well, that you're very serious about the job and that you intend to be successful. If you can communicate this in the interview, you'll get the job offer you're looking for.
Want to know more?  I've put together a FREE webinar:  How to Get Into Medical Sales. Sign up now.

This webinar will show you the 6 essential steps to transitioning into medical sales, the 4 things you absolutely must say in the interview, and much more.  You don't want to miss this!
Medreps.com has released its 2014 Medical Equipment Sales Salary Report.
Are you interested in capital sales?  It's one of the highest-paying fields in the medical arena.
If you are not familiar with it, capital sales processes are longer, more complex, and more expensive than other areas of medical sales. (See this video that explains capital sales.)
If you are interested in knowing what kind of travel is required, or what experience level earns how much money, check out this Capital Equipment / DME salary report from MedReps.
Get insider coaching on how to get a medical sales job with my free webinar:  How to Get Into Medical Sales Webinar information here.
Are you thinking of getting into medical device sales? 
MedReps had released it's 2014 Medical and Surgical Device Sales Salary Report, which says medical device salaries are up 5% over last year.
Medical device sales reps earn some of the highest salaries in the medical arena, but it is a tough field to break into.
Check out the salary report, and then read about how you can get a medical device sales job. 
2014 Medical and Surgical Device Sales Salary Report – See more at: http://www.medreps.com/medical-sales-careers/2014-medical-and-surgical-device-sales-salary-report/#sthash.3rdqdumE.dpuf
2014 Medical and Surgical Device Sales Salary Report – See more at: http://www.medreps.com/medical-sales-careers/2014-medical-and-surgical-device-sales-salary-report/#sthash.3rdqdumE.dpuf
2014 Medical and Surgical Device Sales Salary Report – See more at: http://www.medreps.com/medical-sales-careers/2014-medical-and-surgical-device-sales-salary-report/#sthash.3rdqdumE.dpuf
Are you looking for a medical device sales job? What are the requirements you need?  What will get you an interview and get you hired?
Think about this list of things you need as the legs of a stool.  Hiring managers want as many of these "legs" as they can get under their sales reps, because it makes the rep more stable, more independent, and more successful:
Sales Experience (be able to document your results with numbers, dollars, or percentages)
Experience in Medical Arena (any science background, or any experience working with physicians, surgeons, hospitals, etc.?)
Location (are you in the right location without requiring a relo package?)
Technology (do you understand current technology both for the products and for the software you'll use?)
Knowledge of the Call Point (do you understand what it means to work with physicians and/or surgeons?)
Do you need all these legs to get the job?  No.  You can get hired with only one or two, but you'll have to help the hiring manager see how you are going to develop those other legs in order to be successful.
So let's say you have no sales experience but you do have a medical background…what you need to do is really sharpen up those sales skills. I really love the book 'SPIN Selling.' I think it's a fantastic book that applies really well to both the job interview as well as the sales task ahead of you once you get the role. So I really want to encourage you to get that book.
You really can learn quite a bit on your own that will help you get a medical device sales job…through sales books, through medical journals, YouTube videos (lots of lectures and training things there), job shadows, and more.  And the initiative you take to learn these things on your own will (all by itself) make a great impression on a medical device sales manager who's looking for sales reps with a big go-getter quality who will do what needs to be done.
I also have put together a 1-hour webinar where I address the common questions I get from candidates who are trying to break into medical sales.  I encourage you to sign up for it, listen to what I have to say in it and learn the information you will need to make this very important and very exciting transition into a great job that I know you will enjoy.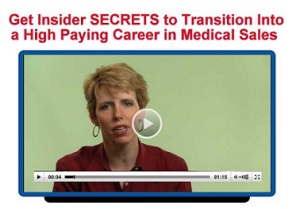 Check out MedReps Medical Sales Salary Report 2014!
According to this report, medical sales reps earn an average of $141,218.  Actual salaries vary widely depending on a variety of factors:
product sold (home health, pharmaceutical, laboratory / clinical diagnostic, capital equipment, medical device, surgical, healthcare IT and software)
job title (inside sales, sales support, field sales, marketing, management, national accounts, and sales directors or VPs)
If you are getting into medical sales, this report is a need-to-know for a couple of reasons:
If you are choosing between types of medical sales careers, it may be relevant for you to know that healthcare IT makes the most money of all categories (followed by medical device), or that the medical sales reps who earn the highest average salaries tend to travel about 50% of the time. 
You need to understand just how high the competition will be for these very lucrative jobs, and plan accordingly to bring your 'A' game to the job search and interview process. 
I have put together a free webinar where I show you what you need to do to beat your competition and land the medical sales job you want (whether you have experience or you don't).
Get more information about my How to Get Into Medical Sales webinar.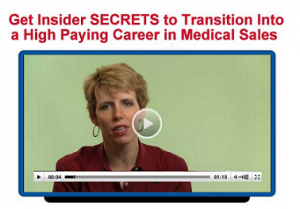 Are you in a medical device sales job search?
Researching the company is a critical step to preparing your 30/60/90-Day Sales Plan as well as knowing how to answer interview questions in a way that will get you the job.
Legacy MEDSearch has a great post on How to Research Companies in the Medical Device Industry that will help you whether you have a medical background or not. Check it out.
If you are in medical device sales (or if you want to get into medical sales), then you've got to see this.
Below is a link to a transcript of Joe Hage's interview with Paula Rutledge of Legacy MEDSearch, one of the nation's top recruiters in medical device jobs and med tech jobs. 
In this interview, Paula gives her very informed thoughts on the medical device job market:
Challenges the medical devices arena is facing (taxes, government regulations, etc.)
How medical device companies can become an 'employer of choice' for medical device sales reps
Technology and product development
Paula pulls in a lot of data, a lot of indicators, and a lot of her conversations with influential people in the field.
If you are in medical devices, this is a MUST read.  Enjoy!
Transcript – Medical Device Job Market
See how to answer interview questions in a FREE video app for Android
Practice your medical sales interview answers with a professional coach in this free app–99% of users say it improves interview answers immediately!
We've launched a Job Interview Questions and Answers app for Droid, available on Google Play!

It makes how to answer interview questions a snap, giving you incredible confidence and effectiveness in your next medical sales job interview.
How does it work? It's so easy…
Watch me ask you a tough-but-typical interview question.
Video yourself answering it so you can see what you look and sound like to the interviewer (nobody sees it but you…this is incredibly helpful to know how you appear to the interviewer).
See me (a job interview expert and coach) answer that question…thought process, important points, everything.
This makes you see what may be missing from your original answer and tells you exactly what the hiring manager really wants to hear from you in order to feel good about hiring you. These will help you sell yourself for the job.
Because you know that your answers will be MUCH stronger, your confidence level will skyrocket…you'll feel great in your interview, and you'll do very well in it.
The list of available questions is amazing, and you can choose which ones you want…here's a sample:
Tell me about yourself.
Why do you want to work here?
Why are you looking to leave your current job?
We're not sure you have enough experience.
What salary are you looking for?
Where do you see yourself in 5 years?
…and so many more.
Get more information here: Job Interview Questions and Answers App
Get it on Google Play: Job Interview Questions and Answers App