If you're looking for a job in medical or healthcare sales, don't you want to know who's great to work for and who isn't?
First, check out my latest list of 7 top medical device companies and 11 top laboratory and clinical diagnostics companies, and then go on over to MedReps' survey results for the best places to work in healthcare sales. Read about the companies, their benefits packages, and selected quotes from survey participants.  The 4 winners were:
Allergan – BioPharma
Johnson & Johnson – Pharma and Medical Device
Stryker – Medical Equipment / Medical Device
Medtronic – Medical Device
But they also include Honorable Mentions, like Covidien, Abbott Labs, Roche Diagnostics, Smith & Nephew and more.
***Here's my strongest warning as a medical sales recruiter:  Everybody's going to want to work for these companies, so if you get an interview, go above and beyond in your research and interview prep for it so you'll stand out.  Start with these:
Lab sales are great (that's what I was in–I have a background in Chemistry).  If you're looking for a lab sales or clinical sales job, start by checking out some of the biggest names in the business right here.  They are in no particular order.
(And before I lose you to the list, make sure–before you go to any job interview–to check out these two posts: 
There are 6 Essential Steps to Land a Medical Sales Job and
Job Interview Questions and Answers for Medical Sales:  What You Have to Prove in the Interview. 
And sign up for my free webinar:  How to Land a Medical Sales Job.)
Owns Ortho-Clinical Diagnostics which provides chemistry and immunodiagnostic products.
Abbott is big.  90,000employees world wide, $38 Billion in revenue.  Pharmaceuticals (anesthesia, cardiovascular, immunology, metabolics, neuroscience, oncology, etc.), diabetes care, and much more.
Laboratory products and services (reagents, consumables, software, equipment, etc.) and analytical technologies (pharmaceutical, biotechnology, research, etc.).  Around 37,000 employees and sales over $10 Billion.  Number 71 on Forbes Most Innovative Companies list.
Diagnostic imaging, clinical care (molecular imaging, oncology, rheumatology, etc.), clinical systems (diagnostic ECG, anesthesia delivery, etc.), Bioprocess, Healthcare IT….there's just so much that this gigantic company does, you've got to check it out for yourself.
In-vitro diagnostics, diabetes care, point-of-care testing, fertility testing—a big portfolio of diagnostic tools for many diseases.
Biotechnology leader.  The headquarters for all Roche pharmaceutical operations in the U.S.  (BioOncology, immunology, opthalmology, metabolism, virology, and more.)  On Fortune's Best Companies to Work For list.
Laboratory diagnostics, clinical (cardiovascular, radiology, surgery, etc.), MRI, Imaging IT, and more.
Great company.  Sells in autoimmune, blood virus, diabetes testing, immunohematology, microbiology, chromatography, microarray, and so much more.
Vaccines (5th largest manufacturer and 2nd largest supplier of flu vaccines in the U.S.), diagnostics (assays for blood screening, and more).
Biological testing technologies in life science and diagnostic industries.  Multiplex solutions for proteins and nucleic acids, assays, reagents/microspheres, and more.
Biotechnology firm sells molecular diagnostics/testing (Nucleic Acid Tests) to laboratories for infectious diseases, genetic diseases, transfusions, and transplants.
Are there any especially great companies that you think should be on the list?
(PS – BioSpace has a giant list of company profiles if you're looking for smaller companies, too.)
Are you looking for a position within medical device sales?  Here's a free list of great medical device companies to consider—in no particular order of greatness:
(And don't forget:  there are a ton of medical device blog posts right here on Medical Sales Recruiter—Tips and Quips to help you break into this great field, including my top 10 tips for a medical sales job search and a free How to Land a Job in Medical Sales webinar.)
One of the world's largest medical device makers ($15 Billion in sales) is aiming at getting even bigger by expanding more into global markets.  So maybe the biggest job growth is outside the U.S.?  Anybody know Chinese?
One of the world's leading medical device and medical technology companies with a strong presence in orthopedics, neurotechnology, surgical supplies and equipment, surgical
navigation systems, and more.   They're huge—20,000 employees, $7+ Billion in sales.  A Forbes Most Innovative Company and a Fortune Best Company to Work For.  But also somewhat controversial—see what a medical sales recruiter has to say about Stryker.
Owns Cordis (vascular),  DePuy (surgical, orthopaedics, etc.) and Ethicon (surgical instruments), and bought out Synthes last year.  Synthes is Switzerland based and does instruments, implants, and biomaterials (bone and tissue).
Sells medical equipment and supplies–CRM, cardiovascular, endoscopy, urology, and more.  25,000 employees, sales well over $7 Billion.  Named a Forbes Most Innovative Company. Announced a 5-year plan to expand Chinese commercial operations.
Abbott is big.  90,000employees world wide, $38 Billion in revenue ($9 Billion in the medical device arm).  Growing presence in medical optics, vascular (as well as diagnostics, pharmaceuticals nutrition and diabetes care).
Endomechanical products, respiratory products, soft tissue repair products, vascular products, just to name a few.
Anesthesia, infusion therapy, diabetes care, diagnostics, and more.
What do you think?
(I know this isn't comprehensive, but you can find a truly comprehensive, A-Z list of medical device companies on DeviceSpace.)
Did I miss anybody you think is an important player or that you heard is a great place to work?
Break into medical sales quickly with my step-by-step How to Get Into Medical Sales Kit.
What's your biggest obstacle to getting the medical sales job you want?  No experience?  Not the "right" experience?  Too much competition?
Some solutions (like certification programs) are  ridiculously expensive–and also unnecessary.
Let me tell you what you REALLY need to do.  I've been placing people with no experience (and with lots), from all kinds of backgrounds (sales and not sales) into medical sales jobs for over 12 years.  And I was a hiring manager myself before that.  I know what works and what doesn't.
Come to my free webinar:  How to Land a Medical Sales Job.  It's an hour of information-packed, no-holds-barred medical sales truth.  You'll learn some great insider tips, including:
the 6 most important steps to transition into medical sales
the 4 things you need to be telling that hiring manager about yourself
how to prove you can do the job, even if you have no experience at all
If I were trying to land a medical sales job, I would be taking in all the information I could get my hands on.  This is free, and there's no strings attached.  Everything I teach you in this webinar, anyone can do. You'd be crazy to miss out.
Click on the image below to register now.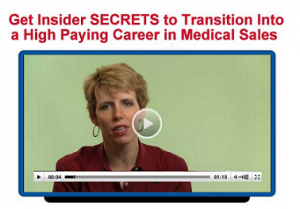 This link will take you to another page where you only have to enter your name and email.  If you want, you can give us your cell number for a text reminder (but we certainly won't be calling you).
Personality Assessments such as  Caliper, Disc, Gallup, HBDI and FiroB are popular tools that yield useful, consistent information for medical sales managers.
There are 2 scenarios that assessments are normally used:
As a hiring tool in the hiring process.
As an employee development tool for sales managers.
In the hiring process, you normally take an assessment at the very beginning of the interview process or towards the end.
An assessment that is used in the beginning is usually used to screen out people that wouldn't fit in the job. When I say fit, maybe it is a very technical scientific job and the candidate didn't have a science degree. The employer may be using an assessment that focuses on abstract reasoning because that is seen as a good measure of intelligence and they are trying to gauge if the candidate will be able to grasp their new technology quickly. If it is an accounting job, maybe the employer is focused more on the candidate's ability to work by themselves with no direction.
A good manager believes "Where there is smoke, there is fire" and if the assessment comes back with more than 2 points of contention, they may think they are better off passing on you and moving on to the next candidate.  They don't want to gamble with their new hires.
It's much less likely to keep you from getting the job if you are taking the assessment as a final step to receiving an offer—unless your assessment comes back with anti-social behavior patterns, the manager will probably move forward.
People who vociferously disagree with their results are almost always a personnel issue waiting to happen. They think they have all the skills needed for their job and they are great. The truth is that is they don't have the needed skills and probably won't change.
Personality assessments work similarly in terms of employee development.  As a manager, sometimes you have a really good employee who wants to move to a different role. Maybe they are in a technical staff position and they would like to transition to a line sales position. You like the employee's values and work ethic and you want to help them advance in their career, but you don't want to set them up for failure by putting them in a job that doesn't match their skill set.
So what happens when they take the test and it shows they don't like to communicate with people and are introverted?
A good manager will handle it correctly by sitting down with the team member and having a conversation about the assessment and try and understand how the team member perceives and interprets the results.
The conversation should be warm and focused on the individual. As you go through the assessment with them and ask their feedback, you will start to get a picture of how that team member sees his or her self. When you start reviewing some of the needed skill sets for the new job and how their results compare to that, often the team member will see that where they want to go doesn't utilize their strengths and it would be a really difficult transition.
What happens next?  Are they doomed to stay in that role forever?  No.
The manager and the team member work together to assemble a plan that will develop or supplement the areas they need to be successful.  If they are poor public speakers, maybe Toastmasters is a good idea for them.  If they have no clue what a day in the life of a sales rep is like, what about scheduled ride-along days in the field?
If the assessment and the review is done right, both parties leave with a better understanding of the team member and where they want to go in the organization and what skills they will need to be successful in a new role.
Your thoughts?  Comments?  Put them in the comment section or e-mail me at:  kraig@phcconsulting.com
Kraig McKee
Snr Recruiter
If you have a field travel trip coming up with your boss and you've got your head in the game and you've taken care of the details that will make your boss comfortable on the trip, now you can get down to the business of how to handle the field travel plan.  (See Part 1 and Part 2 of this series.)
What does a well-executed field travel plan look like?
Let's talk about your Plan A for travel (the ideal situation you can have if you prepare properly), Plan B (the "duck plan") and Plan C (if your day falls apart, do this).
Having your boss or someone from the corporate office field travel with you is a total positive and an opportunity for you to establish a relationship and also to distinguish yourself among your peers.
History says that people that hate, postpone, whine about, and dread field travel are losers that won't last long.  Why so harsh?  Because it is the truth.  If you are doing a good job, you want the recognition and attention.  Why are winners so jazzed to get to go up on stage at national meetings for recognition/performance awards?  It is recognition of a job well done!  If you aren't proud of what you're doing and your performance, you want to be "on the down low".  Successful sales people are self-promoters.
The A Plan with A accounts.
What is it?
The A Plan is a well-thought-out travel plan that hits your most important accounts and is a model of planning and execution.  Here's how to do it:
You anticipated your guest's hotel needs.
You have a Travel Summary (paper) in their hands when they walk off the plane.  I always wanted paper so I could put the summary in my portfolio and take notes on it in my lap while I was in the account.  They are also handy to help if you space on a customer's name.  At the end of the travel, you can make notes on the summary and pass it on to an assistant for a follow up note or maybe someone else in the organization for follow up on a customer's issue.
You had already sent an email with a brief outline of the accounts to be visited and the objectives for each call.
You ask when they would like to be at the airport for their return and if you need to schedule any one on one time with them.  Your schedule for the following day's travel should include some time on the morning for you to chat.  That time may come over a cup of coffee on the drive to your account or at a formal sit down meeting in the hotel.
The Travel Summaries are a contained in a presentation folder that contains the following:
Cover Page (Prepared For, Prepared By, Date, Travel Guest with name and title spelled correctly–check it twice)
Territory Summary-Brief, concise-2-3 paragraphs.
Account Summaries

Name
Contact name and title
Role they play (Technical Buyer, Economic, User, Coach)
Outstanding account issues or red flags
Role you would like the visitor to play

A screen shot from his/her hotel that shows directions and phone/fax numbers.
Account info from your CRM program (Salesforce, Seibel etc.)
Strategic Selling "green sheets" for the accounts you will be calling on if you use Strategic Selling.
Maybe a page or two dedicated so some issue important to your territory, a product show, early release of a product to a thought leader in your territory, etc.
Preparing for well-executed field travel takes some time, but the rewards are worth it.  Poorly planned and executed field travel is hard to escape and can haunt others' perceptions of you in the organization and at review time with your boss.
The A Plan represents the best image or picture in your territory that you would like to present to your manager.  You have confirmed appointments for all customers on the schedule and specific objectives in each call (a single call objective).  If you have done all of the things outlined above, you have already projected the image of an organized, motivated individual.  Anyone that has traveled or managed at all knows that stuff happens and the mark of a winner is the ability to pivot on the new information/scenario and drive forward.
Remember, you aren't trying to "fake out" your boss.  Sometimes even a poor rep can pull together excellent field travel.  They know the right things to do; they just tend not to do them unless someone is around.  While they may fool some people some of the time, they won't fool their competent manager much of the time.  How so? People are creatures of habit and if you are a slacker, those slacker habits show up in other ways over time.  The moral of this part of the story is if you are filled with dread about traveling with anyone, you may be in the wrong role.  I swear I don't know a single high performing rep that doesn't enjoy showing off by demonstrating their product knowledge and account control/management through field travel. 
Plan B
The specific person you have an appointment with in one of your largest accounts becomes unavailable—sick kid, called in to a meeting, sick themselves, emergency etc.  Hopefully they have left you a message or told you when you are verbally confirming your appointment with them the day of the call.  If not, don't freak.  If their assistant tells you that he/she is sorry and will have to reschedule, you may ask if he/she (the assistant) is available or if there is someone else that she had directed you to see.
No matter what the case, handle it with style and grace.  Visualize the duck….smoothly gliding through the water seemingly effortlessly until you look below the surface and see it paddling like crazy.  Since you are a sales professional, you have already anticipated this possibility, hence THE B PLAN Accounts.  There is no one else that can see you in the account and you have 90 minutes until your next call.  The B Plan in action.
The B plan is simply a backup plan for your original call plan and it can take many forms.  In this scenario there are 2 immediate things that come to mind.
Tell whoever is traveling with you that there has been a cancellation and ask if they would like to go somewhere (maybe the lobby of your next call) and chat or he/she can make calls and check emails.  Now before you freak, competent managers know that a fair amount of success in sales comes from adaptability and driving forward.  Even Mr. Rigid Manager will be ok with this.  The fact that you don't freak and reflex to Plan B will score points.  Drive forward.
Tell your guest that your customer cancelled and you have a maintenance call that you are going to squeeze into the schedule. 
Before offering the second option mentioned above, you have surreptitiously called the account and confirmed that it is ok to stop by.  This is more of a "howdy doody" call, so you will have to formulate you single call objective on the fly.  Most reps have customers that like to see them and will welcome the attention.  In the lab world, many customers will take great pride in offering your boss a tour of the lab.
In summary, The B Plan could be called the duck plan.  Your original plan/schedule blew up.  You remain calm and smooth (like the duck on top of the water) but immediately begin paddling to fill the time with productive sales calls.  The big thing to focus on here is that you have already thought about an alternate plan and how to execute it if your A Plan explodes.
Plan C
My boss is in town, my schedule exploded and I was hoping we could come by and show you the new X.
My boss is in town, my schedule exploded, you have a pulse and won't throw things at us—will you see us?
My boss is in town, my schedule exploded and I will buy pizza for your lab if you can see us and show us X.
Get the picture?  Plan C accounts are accounts that will see you on short notice and generally like you.
The message here is planning.  By investing the thought and effort into well planned field travel, there is no obstacle or circumstance that can make you look bad.  You just flex from A to C if needed.
–Kraig McKee, Senior Recruiter, PHC Consulting
PS – Are you trying to break into medical sales?  Get a picture of what life will really be like on the job with the Ask a Medical Sales Manager posts.