As a medical sales recruiter, I've definitely got my finger on the pulse of job market trends in this industry…and I've got to tell you, I've noticed some changes in the last few months that are bucking the overall trends of the last couple of years.  These new developments are having a negative impact on the ability of some sales mangers to successfully hire the candidates that are best for their team.
In the video below, I'll talk about what I've seen happening and what you can do to make sure you end up with the candidate you want:
The 16th Annual Executive War College Conference on Lab and Pathology Management is scheduled for May 3-4, 2011, in New Orleans!  It's THE place to learn everything about the latest trends and best practices in laboratory strategy, operations, and management.  I go every year and always come away with fantastic new contacts and much greater insight into the clinical laboratory industry.  (BTW:  Not only should you plan on being here if you're in laboratory sales, clinical diagnostics sales or pathology sales, but you should strongly consider coming if you're transitioning into any of those medical sales fields, too.)
I am very excited to be co-facilitating two roundtables this year:
Sales and Marketing Manager Roundtable:  Addressing Common Threats and Creating Competitive Advantage to Win Market Share
Lab CFO Roundtable:  What's New and Innovative in Revenue Cycle Management, Managed Care Contracting, and Financial Management of Labs and Pathology Groups
Robert Michel (Dark Daily, Dark Report) puts on a top-notch conference every year, and this year looks like it's going to be another outstanding gathering.  I hope to see you there.
The Dark Daily has just published a list of the Top 10 Hospital EMR Vendors, ranked by number of installed systems, along with a very nice analysis of this trend and what it means for hospitals, pathologists, clinical laboratory managers, and laboratory information systems (LIS) everywhere.
So far, Meditech, Cerner, and McKesson are leading the pack, but there are many others not far behind.
We expected to see a lot of growth in this area, given what we've seen already in other ways–doctors using their own smartphones as tools in their practices, and the iPad's inroads into the entire pharmaceutical industry.  The trend towards all things digital will only accelerate as hospitals continue this move to electronic health records.
How do you see this playing out in your area of medical sales?
FYI:  I found a piece of very good news…the healthcare industry added 34,000 jobs in February, which is actually a pretty big chunk of the job growth overall.   And the outlook continues to be promising.  The healthcare field is one that's expected to grow rapidly, according to Top 6 Job Trends to Watch in 2011.
Have you been considering a move to medical sales?  You're in the right place.  There are hundreds of articles to help you right here on this blog.  Start by checking out this post on 4 ways to get into medical sales, even if you have no experience.
Below is a recording that I did with Mitch. He is a consulting client of mine.
He purchased 1.5 hours of my time in late January and starts his new job next week.
I recorded a call between us (but for some reason, my voice did not record).
So you will only hear Mitch as he explains where he was when he contacted us and purchased our coaching services.
He explains what we worked on and how it helped.
If this sounds like what you need, don't hesitate.
I have helped coaching clients secure jobs in these companies:
Abbott Laboratories
Bayer
Roche
Ventana Medical Systems
Stryker
Covidien
Intuitive
ev3
Novadaq
Cook Medical
GE Healthcare
GE Capital
Neilson Systems
FedEx
and more…..
Let me help you.
See you at the top.
Peggy
What you say about your references can kill your chances to get the job–not to mention what they say about you when they're called! Your references are a huge factor in your success–they can make you or break you (see How Bad References Can Kill Your Job Search). But I just talked to a candidate who, even though her references aren't negative, is making a fatal but common mistake when asked about them.
Listen to this audio to find out what her mistake is and how you can avoid it:
Get more valuable tips like these when you sign up for How to Get a Better Job – Faster!
It's a free training webinar that will show you how to guarantee yourself a job offer every time you interview!
Although medical device companies aren't growing as fast as, say, healthcare IT companies, it's still a hot field of medical sales and there are some great things going on, and some great companies to watch.
Medical device companies on Fortune's List of 100 Fastest Growing Companies:
Intuitive Surgical:  Surgical-robotics firm propelled growth with sales of its proprietary "da Vinci" systems for hysterectomies and prostatectomies
Thoratec :  Manufactures heart pumps for patients with advanced heart failure, increasing their survival rate while they wait for heart transplants.
MindRay Medical International:  Chinese-based medical device manufacturer focused on patient-monitoring and life support, medical imaging, and in-vitro diagnostics.
Edwards Lifesciences didn't make Fortune's list, but is a contender.
MassDevice's weekly checkup provides another perspective, listing some of the companies with recent and significant gains in their stock market values:
These should give you a starting point for your own research into companies you may be interested in working for.  (LinkedIn is a great place for researching.)  You can also check out the Medical Sales Recruiter's free report on the Top 100 Medical Companies.  There's a detailed section on medical device companies (although not all these companies are on it).  You'll get past the standard business revenue reports and get the inside scoop on what it's really like to work there.
You might notice that the fastest growing companies tend to be a little smaller than the top medical device companies, but there can be advantages for you in that:  Smaller companies can offer more flexibility and independence–but it, like everything else, depends on the company.  Doing your homework isn't just good for the job interview–it's good for finding out what you need to know about a medical sales company before you agree to work for them.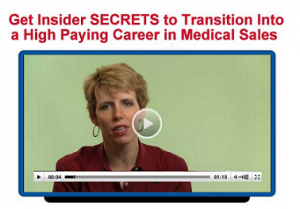 But, the very first thing you should do if you're in the market for a medical sales job is to sign up for my FREE training webinar:  How to Land a Medical Sales Job!
I found something pretty cool on YouTube that I wanted to let you know about–Yale University courses.  The YaleCourses Channel offers video lectures on a variety of subjects.  The one below is on General Concepts of Biomolecular Engineering (it's long, but informative).  You can also find Biomedical Engineering,  bioimaging, genetic engineering, and more.  You won't end up with a degree, but you can certainly pick up a few basic concepts and terminology that can boost your knowledge base for laboratory research sales, pharmaceutical sales, clinical diagnostics, pathology sales, or a variety of other specialized health care sales jobs.
What do you think?
My bigger point is, if you're trying to break into medical sales or strengthen a position you already have, you can access a variety of resources (YouTube, books, articles, journals such as JAMA, etc.) to educate yourself–to narrow down where you want to be, to gather the background information you need to get a foothold, or to continue your training even beyond what your company might supply.
And don't forget to check out the Medical Sales Recruiter's YouTube Channel for videos that will walk you through how to present yourself as the best candidate and land the job you want in the very competitive field of medical sales.
If you've been in the job market very long, you know how competitive it is out there–especially if you're trying to land a job in medical devices, pharmaceutical sales, or health care sales in general.  But all that means is that since employers probably aren't chasing you, you've got to bring your "A game" to the interview.  The good news is that if you understand what the medical sales hiring manager is looking for and know what your goal is for the interview, you have an excellent chance for success!
Your mission in the interview is to prove to the hiring manager that
(a) you understand the job;
(b) you will be successful in the job; and

(c) you not only won't be a risk to his own employment, you'll make him look good.
But how do you prove that?  He's got more than a few candidates telling him that they have such-and-such experience, and that they're driven, hard-working, enthusiastic, energetic, etc.  How do you stand out?
You stand out from the rest of the candidates through your extensive research and preparation.
You've got to be able to address, with as much knowledge as you can, what the company's issues are and how you're the best person to  them.  That means doing your homework.  You've got to know what the company's mission, goals, and biggest problems are.  Do you see the shift here?  It's a little less "this is what I can do" and a little more "this is how I can help you get where you want to go."

And, the best way to showcase your job interview preparation is through a 30/60/90-day plan.
A 30/60/90-day plan is a written outline of your tasks and goals for your first 3 months on the job.  (It's really fantastic for sales jobs, but it's completely adaptable to just about every job).  You're spelling out for your potential employer that you know what you need to do to be successful.  The more company-specific it is, the better–and that's where your research comes in.  Don't worry, it doesn't have to be perfect.  It's a tool that will facilitate your interview conversation, and you can revise it later.  The important thing is that it shows the hiring manager you've thought about how you'll accomplish important goals.  It demonstrates your communication skills, strategic thinking, dedication, and commitment.
Putting this kind of plan together takes a significant amount of work–a lot more than most candidates will do.  But that's exactly why it makes you stand out as a candidate who can prove why you are the best person for the job.
Want to find out more about how to bring your A game to your medical sales interview?
Sign up for this FREE webinar:  How to Get a Better Job – FASTER