In the clinical lab service/sales arena, what are the training needs?  Should sales training be provided for laboratory sales reps, or are labs better off hiring sales reps with experience?
In this interview with Peter Francis, President and Senior Trainer of Clinical Laboratory Sales Training out of Baltimore, Peter discusses:
factors and issues surrounding hiring and/or training lab sales reps
the Law of First Knowledge
what effect sales training has on long-term motivation and performance
Listen to the interview here:
In previous interviews, Peter discusses when clinical labs should hire sales reps, and when labs should consider hiring sales managers.  I am so happy to have been able to interview Peter and share his insight on these issues with you.
Thanks, Peter!
Here's the latest and longest list of top medical device companies (with annual revenue figures and links to company summaries), from Medical Product Outsourcing:
Top Medical Device Manufacturers
For more research:
Want to keep up with the latest in medical device news?  Medical Devices Today offers a roundup of current happenings among medical device companies, including buyouts, study findings, and new products on the market (great for keeping up with your competitors, too).
While you're at it, check out these poll results on trends and opportunities in the medical device industry:  according to the results, trends to watch include nanotechnology and combination devices involving drugs and biologics, with the biggest opportunities within neurological, cardiovascular, and orthopedic areas.  When you research companies, check out which ones are involved in these growing areas.
Get the inside scoop on the top 100 medical companies (with a unique section on medical device companies) from the Medical Sales Recruiter.  I've put together a list based on the numbers, but added my own comments based on years of experience working and recruiting with these companies.  Then you can find out the latest information and contact hiring managers there on LinkedIn.
Get medical device sales job search help:
Want to break into medical device sales?  It's an exciting area, but very competitive.  You can stand out from the crowd with step-by-step coaching from the How to Get Into Medical Sales kit.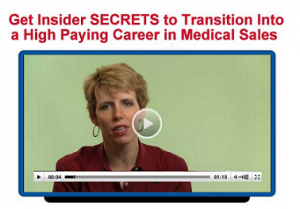 You can also get training to help you get a medical sales job in my free webinar:  How to Get Into Medical Sales Webinar. 
Does the "80/20 Rule" have you by the tail as a sales manager?  Are you managing "top down" or "bottom up?"  Through a quick exercise, learn how to identify if Pareto's Principle is working for you…or you for it! In this short video, Ron Fox shares techniques to get more out of your team, get your top performers producing even more, develop your underperformers and position yourself to both retain and attract top sales talent.
Join Ron for the 3 Keys to Medical Sales Leadership Success. Learn how your sales reps can embrace and use negotiation to build relationships, techniques to build promote individual sales growth while building a stronger team dynamic and how to reverse the 80/20 rule in your favor so that you are managing top down versus bottom up.

You can register for this FREE webinar here!
Interested in getting into medical sales?  YouTube can be a great resource for you.  There are many videos that relate to the medical field that you can use to better inform yourself on procedures, equipment, or terminology specific to your area of interest in health care.  For instance, this video of a radiologist explaining an upper GI examination could be pretty helpful to someone interested in imaging sales (radiology, CT scans, x-rays) or other capital equipment sales for hospitals or diagnostic facilities.   Don't overlook any resource–online videos and articles, informational interviews, or job shadowing experiences–that will help you be a more informed, stronger candidate.
And don't forget to check out the Medical Sales Recruiter videos on YouTube for advice on how to get into medical sales!
Recently, someone who has seen what I've said on the importance of LinkedIn for the job search asked me this:  "If it's not a good idea to include a photo on your resume, why is it a good idea to include it on LinkedIn?  Doesn't the photo on LinkedIn invite the same potential discrimination issues as including it on the resume does?"
This is a tricky issue.  We've all been told over and over again never to use a photo on the resume, and there are good reasons for that.  Anti-discrimination laws in our country have resulted in many Human Resources departments throwing out otherwise great resumes if they include a picture.  Companies are so afraid of being sued that they avoid the slightest appearance of bias by eliminating any resume with a photo right off the bat.  And that's not necessarily a bad thing—your skills and accomplishments should be what gets you the interview, not your looks.
On the other hand, what's the first thing a hiring manager will do after receiving your resume?  See if he can find out more about you on LinkedIn.  What's on LinkedIn?  Your picture.
You could easily argue exactly that line of reasoning for eliminating your photo from LinkedIn, also.  Just like on your resume, you want the focus to be on your accomplishments, not your physical appearance.  A LinkedIn profile photo seems questionable.
Here's where I think the difference lies:  The resume is always completely and exclusively targeted toward your ability to perform a particular job, and your looks have nothing to do with that (unless you're an actor!).  Anti-discrimination laws are targeted to job applications, which a resume is.
But, LinkedIn is first and foremost a networking site.  Even though LinkedIn is an extremely valuable tool for your job search, not everyone on LinkedIn is looking for a job.  They're using LinkedIn to build their contact list, join groups that relate to their current careers, and see what the competition's up to.  When you make networking the focus of your LinkedIn activities, it becomes clear that you need to include a photo, because we (all humans) bond more with a face than with the typed text.  LinkedIn users expect to see a photo, and it looks a little odd if you don't…like you're trying to hide something.  A photo makes other users more comfortable connecting with you, which is one of your primary goals.
So, never include a photo on your resume, because you don't want to sabotage yourself in the HR screening process—and graphics don't usually mesh well with Applicant Tracking Systems, anyway.  But always include a professional (business-appropriate) photo on your LinkedIn profile.  Not only is it expected, it's a valuable part of your online credibility and networking success.
I was very lucky to connect with Peter Francis, President and Senior Trainer of Clinical Laboratory Sales Training Systems in Baltimore, at the last G2 LabCompete Conference.  Peter's focus is on the clinical laboratory sales force.  In a previous discussion, we talked about when it's appropriate for a lab to begin hiring sales reps, but today we're talking about clinical lab sales management:
when to hire a clinical lab sales manager
how many sales reps are required to justify the need for a formal sales manager
flexible options for a lab that's not quite big enough to justify the position or if it's in a transitional period.
I am very excited to offer you Peter's expert advice on these issues.
Listen to my interview with Peter Francis here.
Check out these links to learn more about Peter Francis and Clinical Laboratory Sales Training.
Do you have a medical technologist degree?  Have experience in the clinical laboratory?
We are looking for the right person to fill a med tech position…watch the video and I'll tell you more about it:
If this sounds like a good fit for you, submit your resume to PHC Consulting.
(If this isn't the right job for you, send us your resume with a note saying what you are interested in, so we can keep you in our database for when the right position does come along. )
Welcome to Dallas – all you Super Bowl Fans!
(I am really sorry about the sad weather that you have experienced here so far. We were in the 70's a few days ago.)
Anyway, I am not sure about the Super Bowl and when it starts. I do love the ads – the old Budweiser ones were my favorite (you know – the horse connection).
Really this post is about Vince Lombardi. Have you read his quotes lately? They may really apply to your career, your job  and your life.
Here are a few of my favorites and in color are my comments:
If winning isn't everything, why do they keep score?
(Make sure you are keeping score and putting it on your resume.)
If you can accept losing, you can't win.
(If you lose, make sure you learn something from it)

The achievements of an organization are the results of the combined effort of each individual.
(Sure, you are part of a team, but if you can't quantify and qualify your individual contribution, you may not be on the team long.)
We would accomplish many more things if we did not think of them as impossible.  (Fear and lack of optimism is the worst disease we humans are plagued with in our short time here on earth, do you have it? What are you doing to treat it or to immunize yourself from it?)
I hope your team wins. I really do. But regardless, please consider Vince's words and how they apply to you, your career, and your life.
Peggy McKee
What's your role as a medical sales rep–whether you're in clinical, laboratory, diagnostics, devices, software, or pharma?
Do you know the best way to show me, the medical sales recruiter and reader of your resume, why I need to submit you for a position?
Watch the video to see what I'm looking for in your resume that will give you the best chance of landing the medical sales interview you want.  It will be one of the best resume tips you'll ever hear.
Are you concerned about the best way to market yourself in the medical sales job search?  Sign up for personalized career coaching today.