Lance Cooper has some fabulous advice for sales managers that I wanted to bring it to your attention for medical sales, laboratory sales, clinical diagnostics sales, medical device sales, biotechnology sales, hospital equipment sales, imaging sales, pathology sales, surgical supplies sales, DNA products sales, and pharmaceutical sales.  His article is Great Sales Managers Guard Against Negative Thinking in Any Economy.  You're gonna have to read the whole thing (it's too good to pass up), but the gist of it is that sales managers (and sales reps, for that matter) need to apply a little old-fashioned "power of positive thinking" to maintain morale and sales numbers.  We have been so bombarded lately by the headlines shouting our impending economic doom on the 53 news channels on TV, the internet, and the newspapers (it's everywhere!) that it can become difficult to keep up our energy and not fall into depression and "why even try?" kinds of thinking.  If we purposely feed our minds with the positive and inspirational, it becomes much easier to keep on working, and maybe even come up with some creative and innovative ways to increase sales.  It's not "head-in-the-sand" stuff, it's just a slightly shifted focus.  Let's face it, it's a lot easier to get somewhere when you're headed in that direction.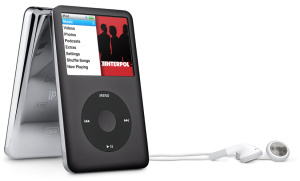 I am going to do an audio conference at the end of April. The topic will be "How to break into Medical Sales" – I will give my thoughts and experiences about how to successfully transition into medical/healthcare/laboratory/pharma sales. In the conference discussion, I want to answer the top 50 questions that you may have about medical sales, how to transition or why you should transition. I need your help here. Can you put your questions in the comments of this blog post?
To make it more interesting, I will draw a winner out of the first 100 responses (that are real responses). The winner will get an Ipod Classic (that is right – the mac daddy of Ipods – $247 with the ability to hold 30,000 songs). How about that? If the winner is okay with it, I will publish their information (including what they are looking for in their next position and why you should hire them) in this blog. Who knows? Maybe this will be their big break….
Please – click on comments and add your question. Even if you see there are more than 100 responses enter your comment. Some of the 50 may be spam and I won't count those!
Share this blog with others who might want to participate.
Peggy McKee – the medical sales recruiter
Choose the HQ video quality in the bottom right of screen for best picture.
Peggy McKee (Snr recruiter – PHC Consulting – specializing in medical, laboratory, healthcare and clinical diagnostics sales and support professionals) tells you what to do to get into medical sales, laboratory sales, medical device sales, healthcare sales, or pharmaceutical sales. She talks about the resume, the interview, the company and the network. This is a must see for the person trying to break into medical sales.
If you have any additional tips or advice for the person who is trying to break into medical sales, please put them in the comments section. I look forward to reading them.
BONUS:  Sign up for this FREE webinar:  How to Land a Job in Medical Sales.  It's an hour of straight talk from the medical sales recruiter on the 6 essential steps to transitioning into medical sales, the 4 things you absolutely must say in the interview, and much more.  You don't want to miss this!
Peggy McKee (the medical sales recruiter) describes the FSE (Field Service Engineer) position.
Most laboratory or medical equipment companies have an FSE that fixes equipment at the customer site.
Typically these FSE's have a bmet, cbet, biomed, biomedical or AA in electronics. The military person transitioning with a strong repair background is a great candidate. This position usually involves travel (more with small companies, less with large ones). If you have this type of background – send your resume to resumes@phcconsulting.com and check out our website at www.phcconsulting.com
From Forrest Gump's Guide to Becoming a Gazillionaire, from OnMoneyMaking.com:
Who taught Elvis how to dance, received the Congressional Medal of Honor, got Nixon impeached, became the world ping-pong champion, built a national shrimping empire, and fathered Haley Joel Osment?

One man: Forrest Gump.

If I could choose one mentor in business, or in life in general, it would be Gump. I don't care that he's not real. The wisdom that he conveys is real, and I think we could all learn something from it.
This advice is so great, I'm going to tweak it for you so you can use it for medical sales (and still make a little money):
And cause I was a gazillionaire, and I liked doin' it so much, I cut that grass for free.
If you're in sales, you better like people and love sales.  If you're in medical sales, you better love the science and technology of it, too, so that keeping up with trends and development in the industry is a pleasure, not a chore.  Be in the kind of medical sales that really interests you-there's a lot to choose from:  medical device sales, laboratory sales, pharmaceutical sales, hospital equipment sales, imaging sales, pathology sales, cellular or molecular products sales, surgical sales, clinical diagnostics sales, or biotechnology sales.  (Click here to find out about some of them.) If you love it, you'll be good at it, and if you're good at it, the money will come.
I'm not a smart man, but I know what love is.
E.Q. is just as important as I.Q. Successful salespeople know that sales are a lot about building relationships-it's not just about the product.  Customers know if you're really in it to help them, or to help you.
Stupid is as stupid does.
Make good decisions.  All the time.  Don't get caught not being where you said you'd be (sometimes they're tracking you), keep your commitments, follow through, and make your company look good.
When I got tired, I slept.  When I got hungry, I ate.  When I had to go… you know… I went.
Take care of yourself.  Keeping yourself in good physical condition by getting enough exercise, eating right, getting enough rest, and taking mental breaks from the job once in a while will keep you at the top of your game.
Momma always had a way of explaining things so I could understand them.
Find a mentor.  Read books on sales.  Read medical sales blogs.  Come to the medical sales recruiter for custom consulting to help you be the best sales rep you can be and have the best job you can have.
I gotta save Bubba!
Loyalty matters.
Jenny taught me how to climb.  And I taught her how to dangle.
If you had a mentor (or even if you didn't), be one.  Be a team player.  Always be networking.  You never know where your next lead is coming from, or whether you might need a job sometime in the future.  Someone who has been willing to help others will almost always get that generosity rewarded in some way down the road.
My Momma always said you've got to put the past behind you before you can move on.
Don't dwell on a sale that didn't close, or a job that went bad.  Learn what you can from it, and move on.
I'm sorry I had to fight in the middle of your Black Panther party.
Learning the art of apologizing will serve you well.  Using it even when you don't think you're wrong will (sometimes) serve you better.
Now you wouldn't believe me if I told you, but I can run like the wind blows.
If you're in sales, you better know how to brag.  About your products when you're selling, and about yourself when you're job searching.  One great tip is to keep a brag book.  What do you keep in it?  Letters from happy customers, "good job" letters from sales managers, sales and revenue numbers, data on improvements you've made, training you've completed, awards and accomplishments.  Learning how to use it in interviews will give you an edge.
My Momma always said, "Life is like a box of chocolates.  You never know what you're gonna get."
On medical sales:  No kid ever said, "I want to grow up to be a medical supply sales rep!"  Still, there's satisfying reward, financially and otherwise, in educating customers and delivering a product that will benefit people.  There's a lot of ways to combine the loves of people, business and science in healthcare sales.
On job searching:  Don't be afraid to move on (and up) if you get the opportunity, and don't be afraid to go after what you want.  Be open-minded about relocating, because it could be the step that leads to really great things.
That's all I have to say about that.
Just as important as knowing when to talk, and when to push for the close, is knowing when to shut up and wait.
Dear recruiter,
i am looking for a job and would like for you to help me. I have done very well at my previous jobs and think i could b a good fit. You prolly deal with people like me all the time and know what I need to do to get a job.
Call me when you get this email.
TA,
Bob
I know times are tough and many are in the job search process, but those of you that believe in "Survival of the Fittest" will find this story encouraging. The email above is an actual email we received this week (we get at least a couple of these each week). Can you believe they come from college educated individuals?
While I am not an English and grammar expert, I at least try. Based on a huge sample group, it seems like I may be in the minority. What happened to following the rules? You know the ones…. capitalize the beginning of sentences, use commas, don't overuse abbreviations in business communications etc., etc., etc.?
The shift to digital communications shouldn't signal the end of writing in real English. Not old England English (tis not the time) but in English (It is not the time). I understand that texting requires abbreviations and I understand that emoticons (?) can sometimes help add tone or context to a brief message. I also understand that just because I like and enjoy something, doesn't mean that everyone else will like it. Do job seekers think that all of the hiring managers will be "into" texting, abbreviations and the new lingo? Will they even know what a tweet is? They say Warren Buffet didn't have a computer until Bill gates bought him one and then he only used it for Chess.
I always think of an old saying that one of my managers told me early in my career, "I expect you to use the same skill set internally as you do externally". Translation… If you are a sales person that was hired to utilize your expert communication skills to sell a product, use that same skill internally among your peers to advance your ideas and goals.
What does that have to do with writing and grammar in written communications?
Everything.
How skilled at your craft do you think recruiters think you are when you don't distinguish between fun time texting and business communication? Answer: not very.
A manager interviews 2 candidates that he rates as equal. One sends an appropriate follow up email.
One sends this:
Hi Bob,
Thanks for meeting.
i'm really interested in the job.
i have a few ?4U, but I'll save them for next time we MIRL.
IG2R,
Kelly
Who do think left a better impression?
TTTT (these things take time) – not sure if this fits here, but I just wanted to show my range.
Thoughts?  Comments?  What are your experiences?
Put them in the comments or e-mail me at:  kraig@phcconsulting.com
Kraig McKee
Senior Recruiter
Internships can be tremendously valuable to college students looking for that resume experience, but I recently came across an article about how some college students are paying for the privilege.  Bad idea.  There are better ways to spend your money…like custom consulting from a recruiter in the industry you're heading for.  You can learn what specific actions you can take that will provide immediate as well as long-term benefits, and you can learn about how to position yourself for long-term success in medical sales, laboratory sales, clinical diagnostics sales, biotechnology sales, medical device sales, hospital equipment sales, imaging sales, pathology sales, DNA products sales, and healthcare sales, management, and marketing.
Click here for custom consulting options from a leading national recruiter in medical sales…PHC Consulting.
I was asked recently about the National Association of Pharmaceutical Representatives (NAPRx)—specifically, whether or not the training certificate program they offer is an adequate substitute for a 4-year degree if the end goal is breaking into pharmaceutical sales as a sales rep. 
There's a couple of ways to answer this question, so here goes: 
First of all, my opinion is that no certificate program is an adequate substitute for a 4-year degree.  There is just no substitute for a solid science background if you're going into medical sales.  Remember—the customers in this area DO have science degrees…if you don't, it will be apparent that you don't.  My top candidates all have 4-year science degrees and some kind of sales/business experience.
Second, of all the areas available in medical sales (laboratory sales, clinical diagnostics sales, biotechnology sales, DNA products sales, cellular products sales, molecular products sales, hospital equipment sales, imaging sales, surgical supplies sales, medical device sales, pathology sales, histology sales, medical software sales), pharmaceutical sales is the most volatile and the least respected—partly because pharmaceutical sales reps (as a whole, though there are exceptions) bring the least value.  The effectiveness of the pharma sales force is declining, and layoffs are everywhere. 
See my website, www.phcconsulting.com, for job listings.  Reading job descriptions and requirements will give you a much better idea of where you need to focus your prep time before getting into medical sales.
Recently, I ran a poll to see what you think about whether or not companies should have the right to run credit checks on candidates before they're hired for jobs in medical sales, laboratory sales, clinical diagnostics sales, biotechnology sales, medical device sales, hospital equipment sales, surgical supplies sales, imaging sales, pathology sales, or pharmaceutical sales. Here's the results:
49% – Absolutely not
40% – Only if there's a good reason
11% – Sure, why not?
My personal opinion…companies should only check credit scores on those candidates who will receive a company credit card, or some other similar financial responsibility. I see that a slim majority of you don't agree with me, but it's not unreasonable for a healthcare sales company to want to give financial access to those people with proven reliability.
If I were going to be flip about this, I'd say that the threat of layoffs ought to be enough to motivate sales reps in medical sales, laboratory sales, biotech sales, imaging sales, hospital equipment sales, medical device sales, clinical diagnostics sales, and especially pharmaceutical sales, in uncertain economic times like these….but of course, there's more to it than that.
Any good manager/motivator knows you need a carrot to go with that stick—and not just bonuses, either.  I found a tremendously helpful article by Hal Apiar– Management:  Motivating in Tight Times that will help you reach your sales reps on a more personal level and guide your team toward greater success. 
Hal points us back to Maslow for inspiration (remember Maslow's Hierarchy of Needs from Psych 101?).   
Briefly:
(1)     Our first need is SAFETY.  These are the basics–food, shelter, protection from harm.
(2)    If your safety needs are met, then you're concerned with your SOCIAL NEEDS.  Friendship, acceptance, affection, reputation and recognition matter here. 
(3)    If you're physically safe and emotionally secure, then you move on to SELF-ACTUALIZATION.  This is all about individuality and self-esteem.  You become interested in fulfilling your potential, in expressing your creativity, in achieving personal satisfaction in a balanced life.
We can move up or down within these levels depending on our own personal circumstances on any given day.  For example, someone at the third level can be yanked back down to the first one by any number of events:  job loss, injury, loss of a home, problems with their children, and so on.  So (to paraphrase Hal), recognition that works for one person won't work for someone else who is in a cash crunch, and cash won't work as a motivator for someone who has enough money, but needs acceptance.  (Click here for some creative ideas.)
How do you put this into practice?  I can't do any less than a direct quote here:
"To motivate people in ways that are most appreciated and most productive requires the motivator to be tuned in and aware to what need level someone is at on any particular day and reward that individual at that level!"
This is what it means for you:  To be a great manager, meet people where they are.  Get to know your sales reps and what's going on with them.  I'm certainly not saying to have group therapy sessions as part of your sales meetings, but a little genuine conversation is a great thing.  The ability to individualize  your motivational tools where needed can go a long way toward ensuring the success of your team.